"You get a salad, and you get a salad! Everyone gets a SALAAAAAAAAD"
Got a little carried away there… I like my salads, ok? Memorial Day Weekend is in our rear-view mirror and the temps keep on rising. I'd say it's safe to say that summer is here to stay! I don't know about you, but I crave cold food when the weather gets steamy. Don't get me wrong, I'll still eat cooked dishes, but the chilled foods call to me on a hot summer day. One easy way to get some chilled, delicious goodness is by throwing together a fresh salad using all of the produce summer has to offer. "Oh no, I hate salads!" Said the person who thinks this is what a salad looks like: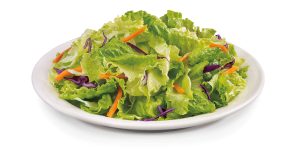 Is that what you visualize when you think of a salad? If so, then I have great news! That's not at all what I picture. In fact, I think that's why salads can get such a bad reputation from people! I'm not sure where the idea started that to be "good" you have to eat a sad-looking salad and that means you're sticking with your diet. WRONG! If that's how you've been taught to think about salads, then I'm here to tell you that you've been misled! Salads should be chock-full of delicious chopped toppings (lots of veggies and even some fruit!) with 1-2 cups of greens as a base. I'm talking lots of color, different flavors and textures, and above all else super satisfying.
Today I'll share with you my formula for the perfect salad that you can customize to fit your tastes. This 100% customizable recipe formula will make anyone a salad lover!
Enter the matrix…The matrix of salad toppings!
The formula is simple: Go left to right on the matrix below and choose your favorite items from each column using the recommended number of servings listed for each category. Once you've picked your faves, you'll be ready to nosh on a delicious salad in no time! If you want to pump up the volume of your salad, add another cup of greens or another serving of vegetables to do so. This list isn't exhaustive, but it should give you plenty of ideas to start with!
Here's an example of one of my favorite summer salads:
Base: Spring mix + cilantro
Protein: pulled pork
Chopped Vegetables: red onion, bell pepper, jalapeno
Chopped fruit: pineapple (1/4 cup)
Healthy fats and dressings: ¼ – ½ an avocado
To make it: I heat all of the protein and veggies together in a pan, put it on top of the chilled spring mix, add the pineapple and avocado and garnish with some cilantro. I don't even need a dressing with this combo. Yum!
Base

(1-2+ cups)

Protein

(1 serving, size of your palm)

Chopped Vegetable

(at least 2-3 ½ cup servings)

Chopped Fruit

(optional: 1-2 ½ cup servings)

Healthy fats and dressings

(2T for dressing, size of thumb for most healthy fats, shoot for 1-2 servings total in this column)

-Spring mix
-Chicken
-Cucumber
-Berries
-Avocado
-Arugula
-Turkey
-Beets
-Pineapple
-Chopped nuts
-Romaine Lettuce
-Pork (sliced/diced ham, pulled pork, ground pork, etc.)
-Bell pepper
-Peach
-EVOO + fresh lemon juice + sea salt and pepper
-Sprouts (Use as an add-in, not the only base ingredient)
-Ground lamb (think Mediterranean combos or gyro-style salad)
-Carrot
-Apple
-Chopped nuts/seeds (walnut, pecan, almond, pistachio, sunflower seeds, pumpkin seeds, etc.)
-Fresh Herbs like mint, basil, cilantro, etc. (also only for an add-on of extra flavor)
-Beans (garbanzo, black, kidney, etc.)
-Tomato
-Grapes
-Cheese- feta, parmesan, goat cheese (cautious with portion size here!)
-Kale- Choose your favorite variety and chop for best results
-Eggs (hard boiled, fried, poached, etc.)
-Green beans
-Watermelon
-Shredded coconut
-Spinach
-Fish and shellfish (salmon, tuna, shrimp, etc.)
-Hearts of palm
-Figs
-Tessemae's brand dressings- squeaky clean and many no-sugar flavors!
-Swiss chard
-Jalapeno
-Pears
-Flavor-infused EVOO
-Radishes
-Vinegar (apple cider vinegar, balsamic, champagne, flavor-infused, etc.)
-Onion/shallot
-Summer squash
-Sugar snap peas
-Zucchini
Tips to avoid salad-fatigue:
Change it up! If you love meal prep, but get tired of having the same thing daily, chop up several toppings and mix and match different combos daily with a couple of different dressings to add variety.
Another game changer is adding roasted vegetables to your salad. Sometimes I'll even heat up my chopped veggies and protein and serve them warm over the cold spring mix, arugula, or whatever greens I've chosen that day. Give it a try if you haven't ever had roasted veggies on a salad!
Need more inspo? Sometimes I'll look online at seasonal produce, search "salad recipe ideas", or hit up Salata for some salad inspo. Plus, those perfectly chopped toppings at Salata make me feel as if I've died and gone to food prep heaven.
Share your favorite salad combos with us! We'd love to hear what types of salads you like to enjoy this summer :).